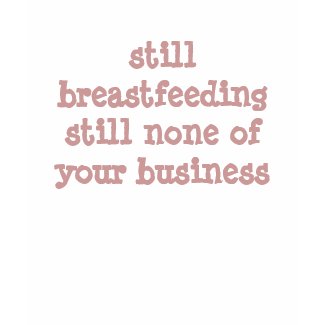 Here's the thing. Tarana is 16 months old and I am still breastfeeding her up to 4 times a day. And I have no immediate plans to wean her - in fact, I plan to let her decide when she wants to stop. Now, for some reason, this seems to really bother a lot of people - friends and family - and has since Tarana turned a year old.
It's not as if I am going out of my way to announce this to the world (not unless you count this post). Unless I want to lie, it's the explanation I have to give for limiting myself to one glass of wine (which is unusual enough to attract comment) or get home in time for Tarana's feed or excuse myself to nurse her when we are over at someone's house.
Here are a sampler of the reactions I have got over the last few months:
'You're still nursing? Why?'
'Don't you think it's about time you weaned her off?'
'Aren't you bored?'
'What if she asks for 'it' in public? Won't it be embarrassing?
'What if she gets too used to it?'
'She will get spoiled.'
'I know the WHO favours breastfeeding up to the age of 2, but that guideline is basically for poor people whose kids don't have access to good quality nutrition.'
And this is my favourite:
'I know women in rural areas feed their babies till much later but I just find it a bit weird'
*accompanied by a shudder*
When I was nursing Ayaan, I had no intention of continuing past the age of one. I bought into the argument that it was unnatural and unnecessary for kids to breastfeed after their first birthday. Besides, that was also my deadline for return to full-time work (with some travel thrown in), so it would have been logistically impossible. So I followed a very strict schedule of weaning. From five months of age, I added one solid meal and dropped one feed every month till we were down to a single feed at Month Eleven. At that point, Ayaan took the matter out of my hands and self-weaned (
he was never a big fan of breastfeeding in the first place
).
Everything about Tarana's infancy has been less planned - from sleep training to her diet - and nursing has been no different. When she was born, I was committed to breastfeed her for a year and after that, it would have depended on my work situation. But once going back to work was off the table, I saw no reason to stop.
What I did not expect was the almost universal disapproval - mild and outspoken - of my choice to continue nursing beyond the age of one. The
benefits of extended breastfeeding
are well-documented but it's possible that most people, like my first-time mom self, are not aware of them and just follow the popular motto:
'If they are old enough to ask for it, they are too old'
. But even then, I don't understand why it attracts this kind of negative attention. I am not even, like mothers in many Western countries, asking for the right to bare all and breastfeed in public. Most of Tarana's nursing sessions happen in the privacy of my bedroom and the occasional in-transit ones behind the modest nursing apron that goes with us everywhere.
I think the problem lies in the way that we have sexualised breasts. Prop them up with push-up bras, enhance them with surgery or bare them on the Playboy centrefold and most people are unlikely to so much as bat an eyelid. But, God forbid, that you use them for their intended purpose and actually nurse a 2-year old, you'd better be ready to be an eye-popping spectacle!
The other problem is that breastfeeding has become such a touchy issue. We all feel judged, no matter what our choices. Those who stop early feel that the ones who carry on into toddlerhood make them look bad, who in turn feel that the former look upon them as weirdos. In other words, just another front in the Mommy Wars!
I think the decision to breastfeed is a personal one
. There is no universal right answer. Just one right answer for every mother and baby pair, depending on their needs and circumstances. In my case, I am at home, Tarana still seems to need it and I can't think of a single good reason to stop.
It's early days yet (I am just 4 months past the one-year mark) but I am happy with my decision. Sure, it cramps my style a bit - I can't go on a trip without Tarana or indulge in a boozing session - but I have found that the benefits far outweigh the inconveniences. Here's what has worked for me:
When Tarana was still an infant, I came across the concept of Baby-Led Weaning. They had me at hello. So Tarana has never had a mashed or pureed meal and her first taste of solid food was a slice of apple at five and a half months that she sat and gummed for twenty minutes. I will do a detailed post on this at some point but it has been great and she has been able to explore and take her time with food since there was no pressure to wean or stress about how much nutrition she was getting from her non-milk diet.
Travel is so easy. We went to Mauritus when she was just over a year and I did not carry a single thing for her to eat or any feeding equipment from home. There was always something that she would find interesting enough to eat at the restaurants we ate at and even when she was fussy about the food, the breastfeeding was a backup and I did not have to worry about whether she was getting enough.
I have actually seen the immunity thing in action. It's not that she falls ill less. Thanks to her brother's susceptibility to respiratory infections, she has had more than her fair share of coughs and colds. But what is different is their intensity and duration. She usually kicks the bugs off faster than Ayaan does and usually without any help from medication. In fact, she has needed antibiotics just once (when she caught the virulent bug that caused Ayaan's pneumonia).
Even when she is ill and goes off her food for a bit, she continues to nurse so I don't have to agonise about her not getting enough to eat.
However, while I have not been actively weaning her, I definitely don't want her to get dependent on breastmilk. So I have been nudging her along in small ways. As part of her sleep training, I have been slowly pushing the time for her night feed. She now has it at 5 a.m. and then sleeps for another 45-60 minutes. When she gets up, I give her a cup of cow's milk. She doesn't have much but she's gradually increasing the quantity. I am doing this now when she is less rigid about her tastes because I worry that she might reject it altogether if I wait longer.
After she turned six months, I also cut out her comfort feeds and stopped feeding on demand. Unless she is sick or her ears are blocked on a flight, she only gets a feed after waking up and just before bedtime (that's four feeds a day currently). This way, breastfeeding is not likely to become an emotional crutch for her, another thing the experts warn against. And it also means that it is rare for her to ask me for an unscheduled feed in public (hence ruling out the embarrassment factor, which would have been high given that her word for it, rather inappropriately, is 'booboo')
So anyway, that's what it is. How do you feel about it? Go ahead, speak your mind in the comments. If you dislike the idea of extended breastfeeding, I'd really like to know why.
(Image courtesy http://alliancebreastfeeding.com)